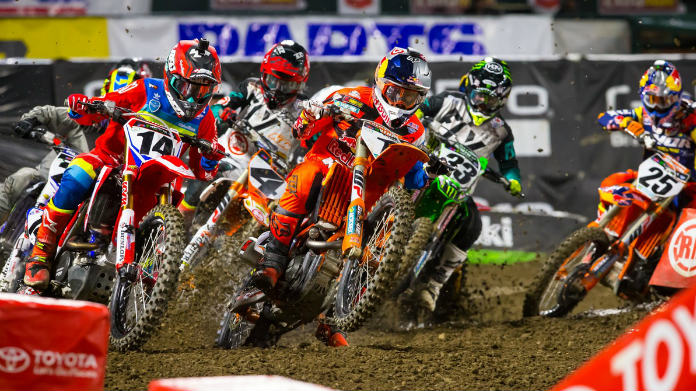 Tutto è pronto per la stagione 2018 dell'AMA Supercross: senza il #1 Ryan Dungey, l'Angel Stadium di Anaheim accoglie il sensazionale ritorno di Ken Roczen e tante altre storie da raccontare in un'epica notte di sport
Finalmente ci siamo! Questa notte all'Angel Stadium di Anaheim prende il via la stagione 2018 dell'AMA Supercross, uno show senza eguali impreziosito da molteplici spunti d'interesse per quella che potrebbe definirsi come la "stagione della rivoluzione". Ritiratosi dalle corse il Campione in carica Ryan Dungey, il Supercross ritrova in azione Ken Roczen con tanti attesi protagonisti in un 2018 all'insegna del rinnovamento.
LE NOVITÀ – In 43 anni di storia dell'AMA Supercross mai erano state introdotte così tante novità contemporaneamente. Un nuovo sistema di punteggio premiante per tutti i 22 piloti ammessi alla finalissima di ogni evento, senza tuttavia modificare lo scarto tra il 1°, 2° ed il 3° classificato. Drastica la cancellazione delle semi-finali: per qualificarsi al Main Event bisognerà concludere nei primi 9 nella propria heat di appartenenza o, in alternativa, ottenere il lasciapassare nella classicissima LCQ (Last Chance Qualifier). Novità assoluta l'introduzione della Monster Energy Supercross Triple Crown, trofeo assegnato nel corso degli eventi di Anaheim (del 20 gennaio), Atlanta (3 marzo) e Minneapolis (14 aprile) con punteggio in stile-Olimpico e combinate le classi 450 e 250.
DUNGEY LASCIA, ROCZEN RITORNA – Proprio la top class 450 SX non vedrà ai nastri di partenza il Campione in carica (ed ancor prima nel 2010, 2015 e 2016) Ryan Dungey, ritiratosi dall'attività agonistica lasciando il #1 in palio. Sulla carta hanno tutto il potenziale per riuscirci Eli Tomac (Monster Energy Kawasaki), il recente vincitore della Monster Energy Cup e già Campione del Mondo Motocross Marvin Musquin (Red Bull KTM Factory Racing), un Justin Barcia (Monster Energy Knich Yamaha Factory) a caccia del riscatto senza scordarci del sempreverde Chad Reed, passato con il suo team CR22 a Husqvarna. Chiaramente la principale tematica d'interesse del weekend di Anaheim sarà il ritorno di Ken Roczen, di nuovo in sella alla Honda CRF450 ufficiale HRC dopo lo spaventoso botto di Anaheim-2 lo scorso anno, 11 mesi di sofferenze comprensivi di 11 interventi al braccio sinistro infortunato. Nelle prove il funambolico crossista tedesco è sceso in pista con un tutore al braccio, ma la sua manetta resta sempre fuori discussione…
Introducing the all new VUE Goggle.
Good wasn't good enough so we sat down and created something entirely new. Proud to have been part of developing the all new VUE Goggle. Available now at https://t.co/XQB7dXe6Ml @foxmoto #foxVUE #foxracing pic.twitter.com/9B0wHWePZk

— Ken Roczen (@KenRoczen94) 4 gennaio 2018
SI PARTE AD ANAHEIM – Rispettando appieno la tradizione l'Angel Stadium di Anaheim sarà teatro questa notte del primo appuntamento stagionale con successivi 15 eventi prima della finalissima di Las Vegas del 5 maggio prossimo. Chi succederà nell'albo d'oro a Ryan Dungey?
IL CALENDARIO 2018 DEL MONSTER ENERGY AMA SUPERCROSS
6 gennaio: Angel Stadium – Anaheim (West Division)
13 gennaio: NRG Stadium – Houston (West Division)
20 gennaio: Angel Stadium – Anaheim (West Division)
27 gennaio: University of Phoenix Stadium – Glendale (West Division)
3 febbraio: Oakland Alameda County Coliseum – Oakland (West Division)
10 febbraio: PETCO Park – San Diego (West Division)
17 febbraio: AT&T Stadium – Arlington (East Division)
24 febbraio: Raymond James Stadium – Tampa (East Division)
3 marzo: Mercedes-Benz Stadium – Atlanta (East Division)
10 marzo: Daytona International Speedway – Daytona (East Division)
17 marzo: The Dome at America's Center – St. Louis (East Division)
24 marzo: Lucas Oil Stadium – Indianapolis (East Division)
7 aprile: CenturyLink Field – Seattle (West Division)
14 aprile: U.S. Bank Stadium – Minneapolis (East Division)
21 aprile: Gillette Stadium – Foxborough (East Division)
28 aprile: Rice Eccles Stadium – Salt Lake City (West Division)
5 maggio: Sam Boyd Stadium – Las Vegas (East/West Division)
With 8️⃣ career wins at Anaheim @CRtwotwo is a fan favorite. The Australian had them on their feet in 2014! ⚡️#DropTheGate #SXonFOX

Tickets: https://t.co/mjSMcY9pbc pic.twitter.com/74yPKDEBTk

— Supercross LIVE! (@SupercrossLIVE) 4 gennaio 2018
L'ELENCO ISCRITTI PROVVISORIO DELL'AMA SUPERCROSS 2018 (CLASSE 450 SX)
2- Cooper Webb – Monster Energy Knich Factory Yamaha Team – Yamaha YZF450F
3- Eli Tomac – Monster Energy Kawasaki – Kawasaki KX 450F
4- Blake Baggett – Rocky Mountain ATV/MC KTM WPS – KTM 450 SX-F Factory Edition
6- Jeremy Martin – GEICO Honda AMSOIL – Honda CRF 250
10- Justin Brayton – Smartop/MCR/Honda – Honda CRF 450
12- Jacob Weimer – Smarttop Motoconcepts – Honda CRF 450
14- Cole Seely – Team Honda HRC – Honda CRF 450
15- Dean Wilson – Rockstar Energy Husqvarna Factory Racing – Husqvarna FC450
19- Justin Bogle – Autotrader JGR Yoshimura Suzuki Factory Racing – Suzuki RM-Z450
20- Broc Tickle – Red Bull KTM Factory Racing – KTM 450 SX-F Factory Edition
21- Jason Anderson – Rockstar Energy Husqvarna Factory Racing – Husqvarna FC450
22- Chad Reed – CR22 – Husqvarna FC450
25- Marvin Musquin – Red Bull KTM Factory Racing – KTM 450 SX-F Factory Edition
33- Joshua Grant – Monster Energy Kawasaki – Kawasaki KX 450F
34- Weston Peick – Autotrader/JGR/Yoshimura/Suzuki Factory Racing – Suzuki RM-Z450
39- Kyle Cunningham – H.E.P. Motorsports/FXR/Suzuki – Suzuki RM-Z450
48- Henry Miller – H.E.P. Motorsports/FXR/Suzuki – Suzuki RM-Z450
51- Justin Barcia – Monster Energy/Knich/Factory Yamaha Team – Yamaha YZ450F
55- Vince Friese – Smartop Motoconcepts – Honda CRF 450
58- Matthew Bisceglia – Living 100 NutUp Industries – Suzuki RM-Z450
60- Benny Bloss – Rocky Mountain ATV/MC KTM WPS – KTM 450 SX-F Factory Edition
69- Tyler Bowers – Bowers Racing – Kawasaki KX 450F
72- Joshua Hansen – Living 100 NutUp Industries – Suzuki RM-Z450
73- Brandon Scharer – 3D Racing/EBR Performance/Altus Motorsports/Yamaha – Yamaha YZ450F
80- AJ Catanzaro – AJ Catanzaro – Kawasaki KX 450F
84- Scott Champion – Partzilla.com – Yamaha YZ450F
90- Dakota Tedder – Team Tedder/Monster Energy/KTM/Lucas Oil – KTM 450 SX-F Factory Edition
91- Alex Ray – CycleTrader Rock River Yamaha – Yamaha YZ450F
94- Ken Roczen – Team Honda HRC – Honda CRF 450
120- Todd Bannister – Moto Adventure Kawasaki – Kawasaki KX 450F
145- Travis Smith – Travis Smith – KTM 450 SX-F
178- Ronnie Ford – MotoTech Trailers/Nash Motorsports – Husqvarna TC250
181- Dustin Pipes – H.E.P. Motorsports/FXR/Suzuki – Suzuki RM-Z450
185- Damon Back – South Valley Motorsports H&H Triple Effect PB – Kawasaki KX 450F
211- Tevin Tapia – Trust Implants/TNT Racing – Honda CRF 250
214- Vann Martin – Allsouth Sprinkler Company/Honda Of Houston – Honda CRF 450
256- James Milson – Team TPJ/Fly Racing/Granbury Motorsports – Kawasaki KX 450F
262- Connor Pearson – St Claire Design and Construction – KTM 450 SX-F
282- Theodore Pauli – TXS/Outlaw Motorsports – Kawasaki KX 450F
330- Cade Autenrieth – Cade Autenrieth – KTM 450 SX-F
447- Deven Raper – RJC Racing/Kelly's Kawasaki – Kawasaki KX 450F
471- Logan Karnow – Team PR-MX.ca – Kawasaki KX 450F
509- Alexander Nagy – Live You Like/AXO/Pirelli – KTM 450 SX-F
523- Miles Daniele – Jalonen Ranches/Alltech Auto/Clawson Motorsports/Vivid Design – Honda CRF 450
526- Colton Aeck – Charity Air Ambulance/TREMX.com – Honda CRF 450
542- Johnnie Buller – Help Smog/DT1 Filters/MIKA Metals – Suzuki RMZ-450
608- David Pulley – DMP Motorsports/Think Technology – Honda CRF450
645- Cheyenne Harmon – Shawneemotors.com/Merge Racing – Yamaha YZ450F
722- Adam Enticknap – Enticknap Racing – Honda CRF 450
723- Tyler Enticknap – SLO Painting/FLY Racing – Honda CRF 450
877- Dylan Bauer – Dylan Bauer Racing – Yamaha YZ450F
907- Ben Lamay – TPJ/Fly Racing – Honda CRF 450
914- Brice Klippel – BWR Engines – Honda CRF 450
918- Michael Akaydin – TXS Productions – Kawasaki KX 450F
976- Josh Greco – Privateer Graphics/Strikt – KTM 350 SX-F
981- Austin Politelli – U Of MX/TXS Productions/HRT Racing – Honda CRF 450